Top > News and Information > BSP opens new R&D Center in Xian, China, in March

February 17, 2011
BSP opens new R&D Center in Xian, China, in March
- Aims to drive local development of unique products targeted to China market -
BSP Incorporated (hereinafter "BSP") is pleased to announce that in a meeting held on February 17, 2011, the Board of Directors resolved that in March the company will start operation of BSP Shanghai Xian R&D Center, as a branch of BSP (Shanghai) Inc. (hereinafter "BSP Shanghai"), a consolidated subsidiary of BSP located in China. BSP is a developer and distributor of packaged software for IT system operations based in Minato-ku, Tokyo, Japan (President and Representative Director, Hiroki Takefuji).
The new BSP Shanghai Xian R&D Center will endeavor not only to develop Chinese versions of major BSP products, but also to work with BSP in planning and developing unique products specially designed for the rapidly growing China market, with a view to expanding its sales in a wider global market.
BSP Shanghai was established in January 2008 as a locally-incorporated company in China. Closely collaborating with the Japan BSP R&D Center in Shinagawa, Tokyo, the Shanghai subsidiary has devoted itself to improving functions and quality of BSP products. Since its establishment, technology transfers to BSP Shanghai have been going forward successfully, and useful expertise and knowhow for development activities have been gathered. As a next step, BSP will increase its local business activities in China, taking advantage of the new facility as a marketing and sales base.
Overview of BSP Shanghai Xian R&D Center

Company name: BSP Shanghai Xian R&D Center
Address: Room 407 Hanyun Building, No. 72 Keji 2nd Road(in Xian Software Park)
Scheduled date of establishment: 1st half of March, 2011
Office area: 151 m²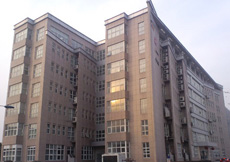 Contact
For inquiry from media, please contact:
BSP Incorporated
Corporate Communication Office: Mitsugu Inoue, General Manager
URL: http://www.bsp.jp/
Tel: +81-3-5463-6385
Fax: +81-3-5463-6392
Email: info@unirita.co.jp
All brand names and product names in this release are trademarks or registered trademarks of their respective companies.
The information in this release is current as of the day of the release and is subject to change without prior notice.
Category Menu