TOP > Products & Services > BSP-RM


Operating costs need to be reduced.
Printers must be shared by the existing system and the new system.
The cost of reconstructing an IT system needs to be reduced.
Systems cannot keep ahead of the increasingly diverse needs for reports.

Any industry that uses mainframe, UNIX, Windows, or Linux platforms for mission-critical application systems.
Any organization that plans to establish a reporting infrastructure on multiple-application servers.

BSP-RM sets up a totally optimized reporting infrastructure for overall mission-critical systems, rather than a stand-alone reporting system on each application server.
Because reports can be output from new application systems to existing printers or electronic reporting systems, current assets can be utilized efficiently.
The work of developing applications is reduced by separating report management from the creation of report data.
Reports being printed can be delivered electronically just by registering master files.

BSP-RM centrally manages mission-critical reports from various platforms, bundles them by type or destinations , and then, outputs them to an electronic report system and/or to centralized or distributed printers.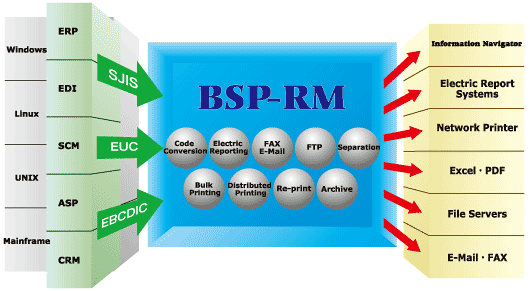 Integrating and extending report solutions
As organizations move applications from a mainframe to an open system, the reporting environment and the reporting needs become increasingly diverse and complex. BSP-RM can respond to these needs by integrating many kinds of printers, report-creating software, and electronic report systems.
Reducing the development workload
The pattern of reports may change depending on whether they are compiled daily, weekly, or monthly. Also the number of copies, and the destinations, may change each time a report is generated. Development people do not have to worry about such changes, because BSP-RM can manage them by modifying its master files.
Extendability and maintainability
Even if the number of application systems and the number of reports increase as the use of reports becomes more diverse, the report functions can be managed easily by modifying RM's master files.

The cost of distributing reports has been reduced without changing any application systems.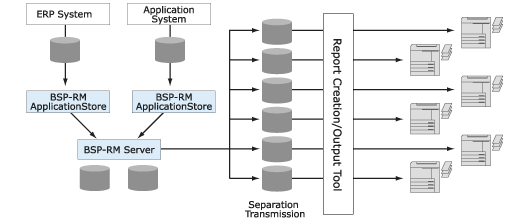 Issues

A customer needed to change the distribution of reports without changing any applications.
The customer wanted to create CSV files through batch process instead of printing reports.
Improvements

The amount of work needed for development is reduced, because an application system creates only CSV files and does not need to be concerned with output destination or the number of copies to be distributed.
The work of maintenance is also reduced, because the output destination or the distribution destination of a report can be changed by simply changing the master files.

BSP-RM Server
Windows 2000 Server
Windows Server 2003
Solaris 10/9/8,AIX 4.3/5L, HP-UX 11.0
z/Linux
Red Hat Linux AS/ES
Turbolinux Enterprise Server 8
BSP-RM Agent
Windows 2000 Server
Windows Server 2003
BSP-RM Client
Windows 2000 Professional
Windows XP
Windows 98
BSP-RM Agent
Windows 2000 Server
Windows Server 2003
BSP-RM/400
i5/OS V5R1 or above
CATEGORY MENU