TOP > Products & Services > Exentry


Input data is not being managed effectively, because data is entered at different sites.
Each application or person manages input data differently. It is difficult to unify the procedure.
Many errors are made during data entry, and checking input data requires much work.
The original data, created in Excel or txt format, must be re-entered so that it can be processed by application systems.
Support service for the old data entry machine has been discontinued, and a new system must be constructed.

All industries and application systems.
Organizations that want to unify data entry procedures and manage input data centrally.

Input data can be managed centrally regardless of where it is entered.
Input data management can be unified by having all the data entered and managed by the same procedure, regardless of application or personnel.
Because the data is validated as it is entered, errors in input data can be reduced.
Because Excel, CSV, or txt data can be imported, there is no need to re-enter data
Data can be entered by use of standard PCs rather than special hardware.

Exentry is a software product that manages input data centrally and reduces the work of entering it. Because data for all application systems is entered by the same procedure, data entry is unified. Further, Exentry manages all data so that users have no need to manage various data media.
Layout definition
A consistent layout for entering data, and field attributes such as formatting and validating data, can be defined. The operator can detect input errors while entering data.

Screen design
Items can be sorted so as to be in the order inwhich they appear on the paper slips on which the data is recorded; and the order can be changed if items appear in different order on different paper slips

Data import
Data can be input directly from Excel, CSV, or txt files. Errors can be detected even in data imported from those files.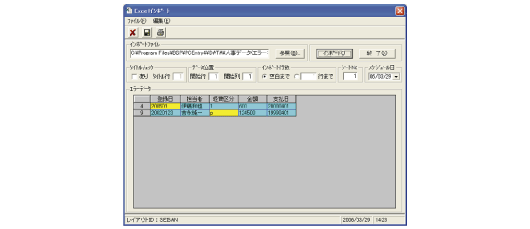 Data verification function
Users can confirm the accuracy of input data by using the function for verifying data. Users can enter the same data twice and, if the new input is different from the old one, can select the one to be used.


Exentry Client
Windows 7 Professional (32bit)
Windows Vista Business Edition (32bit) SP1
Windows XP Professional Edition
Windows 2000 Professional
(Recommended specifications: Pentium 4 1GHz or greater, 512MB of RAM)
Management DB
SQLServer*(*SQLServer needs to be installed separately, if used.)
CATEGORY MENU