TOP > Products & Services > Sky-Eye Tribune


The server monitoring tool currently installed has many unnecessary functions.
System monitoring tools are necessary, but problems are monitored by staff members because tools are too expensive.
When problems occur, there is need to distinguish quickly, from a single display, between problems on the servers and problems on the networks.

For all industries, all sizes of organizations.
Organizations that want to establish functions for monitoring system failure or server problems.
Organization that have implemented monitoring tools but are finding maintenance too expensive.

With Sky-Eye Tribune, unnecessary functions for server monitoring are removed and only necessary functions are kept; therefore, servers can be monitored at low cost.
Problems with network equipment such as routers and hubs can be monitored by use of SNMP manager functions.
The site of a problem, whether server or network, can be identified from a single display

Sky-Eye Tribune, a single software application, manages basic resources, networks, servers, and desktops. Further, it supports efficient capacity planning by producing activity and performance reports.
What functions are necessary?
By implementing only the necessary functions for server operation in a balanced manner, Sky-Eye Tribune provides optimum cost-effectiveness.
Trouble-shooting of problems on servers
Sky-Eye Tribune logs software operation and process execution continuously. Using the information in these logs, users can identify the causes of problems with servers.
Easy maintenance
Servers can be operated, and their settings can be changed, from a remote console. Also, information on the configuration of the hardware and software of servers can be collected and managed from a remote console.
Performance reports are generated automatically
The information collected by Sky-Eye Tribune is automatically integrated with that collected by TIAReport to generate performance analysis reports for use in predicting possible problems.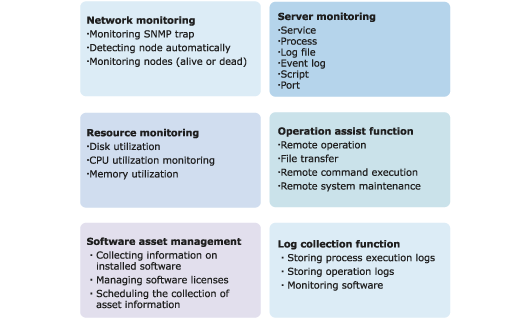 Reducing costs by replacing monitoring tools
The above requirements had been met by another vendorfs monitoring tool. Sky-Eye Tribune was able to meet the requirements at lower cost. Because installation, setup, and use were easy, setting up the new system for monitoring production took only two months.

Sky-Eye Tribune Server/Agent
Windows 2000 Server sp3,sp4
Windows NT 4.0 Server sp6a
Windows Server 2003 Standard Edition
Windows Server 2003 R2 Standard Edition
MIRACLE LINUX Standard Edition V2.0/2.1
MIRACLE LINUX V3.0 - Asianux Inside
Red Hat Linux 7.1/7.2/7.3/8.0/9.0
Red Hat Linux Advanced Server 2.1
Red Hat Enterprise Linux version 3
Update 2-7

Red Hat Enterprise Linux version 4
Update 2iUTF-8), 3iUTF-8)
Turbolinux 8 server
Solaris 2.6(SPARC)/8(SPARC)/9(SPARC)
HP-UX 11.0(SJIS)/11i version1(SJIS)
(OS without locale is supported with "eucJP")
Sky-Eye Tribune Manager
Windows 2000 Server sp3, sp4
Windows Server 2003 Standard Edition
Windows Server 2003 R2 Standard Edition
*One of the following licenses is necessary as a DB engine.
Microsoft SQL Server 2000 sp4
Workgroup Edition, Standard Edition, Enterprise Edition
Microsoft SQL Server 2005
Workgroup Edition, Standard Edition, Enterprise Edition
Sky-Eye Tribune Console
Windows 2000 Professional sp3, sp4
Windows XP Professional
Windows 2000 Server sp4
Windows Server 2003 R2 Standard Edition
CATEGORY MENU