TOP > Products & Services > TIA Report


The performance of servers, application systems, and networks is not measured.
Identifying the causes of problems takes too long.
Because compiling a monthly report requires considerable work, reports are not provided promptly to end users.
Operation quality is not visualized.

Data centers that provide outsourcing services for IT systems operation.
The IT department of any organization that manages servers.

It provides different views of information about the performance of the IT infrastructure, and thus speeds the solution of problems.
Problems are prevented in advance, and stable services can be provided.
Because performance reports are generated automatically, they require less work.
Because regular reports can be provided on demand, the quality of service is improved.
By monitoring the service level, degradation can be prevented and the service level is improved.

TIA Report consolidates information about the IT infrastructure in the server and generates various graphs and reports automatically. These reports can be used at once as regular official reports.
Data collection and retention
TIA Report handles chronological data such as the logs kept by monitoring tools; the output of UNIX's performance analysis commands such as sar, lostat, and vmstat; and the output of the Windows performance counter.
Data analysis with graphs
Data collected in any specified period can be viewed in graphs. Details on specific date and time can be obtained from the database, and trends can be inferred from graphs summarized by date or month. Further, additional rich graphs can be created for comparison with past data and for correlation analysis between data.

Automated generation and distribution of reports
From graph data, reports in various formats can be generated automatically. Because reports are output in MS Word or MS Excel format, users can easily modify or manage them. The generation of reports can be scheduled flexibly -for example, daily, weekly, or monthly- and automatically distributed from the Web server to users.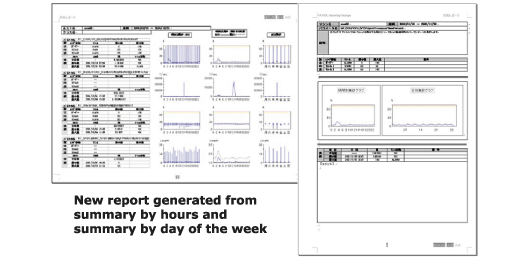 Monitoring service level
The service level of outsourced IT operation can be monitored at all times. When it nears degradation, a warning message is issued.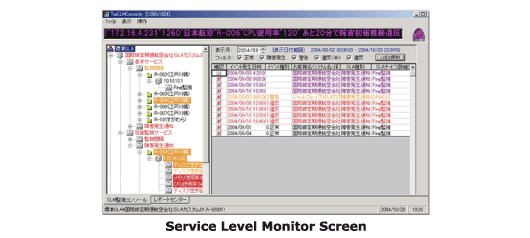 (1)Use for Data Center

Goal

Monitor 2,000 servers and report on their operations.
Monitor the service level and report on it.
Benefits

Monthly reports and problem analysis reports are generated automatically.
The service level is monitored in real time, and reports are generated automatically. Any penalty for degradation of the service level is avoided.
(2)Use for Troubleshooting

Goal

Analyze the causes of any problems on servers or networks.
Benefits

Detailed data on the target of investigation is collected on site. From this data, graphs and reports can be generated on site for use in analyzing problems.

TIAReport Server
Windows 2000 Server SP1 - SP4
Windows 2003 Server SP1, SP2
Oracle9.2.0 Standard Edition
Microsoft Office 2000/XP
TIAReport Client
Windows 2000 SP1 - SP4
Windows XP
Oracle9.2.0 Standard Edition Client
Microsoft Office 2000/XP/2003
TIAReport Enterprise Option
(AutoReportMaker, AutoReportManager)
Windows 2000 SP1 - SP4
Windows XP
Oracle9.2.0 Standard Edition
Microsoft Office 2000/XP
Adobe Acrobat 5.0, 6.0, 7.0
TIAWeb
Soralis 8
Red Hat Linux 8.0
Supported Monitoring Tool
AppManager Ver3.4, Ver4.0, Ver5.0
PATROL Ver3.2.09 English ver., Ver3.2.9.1 Japanese ver.
PATROL2000(Ver3.41 Japanese version)
Server Vantage Ver9.1, Ver9.7
Tivoli Distributed Monitoring Ver.3.7
Tivoli Monitoring Ver5.1
Tivoli Enterprise Data Warehouse Support Ver1.1
Sky-Eye Tribune
Other Supported Functions
SNMP Monitor
Windows Performance Monitor, WMI Monitor
UNIX performance monitor command(sar, iostat, vmstat etc.)
CATEGORY MENU