TOP > Products & Services > A-AUTO


Cannot schedule both the usual daily jobs and those left over from the day before.
As the workload increases, progress monitoring becomes more complex.
Different versions of software cannot be used together.
As the variety of platforms increases, no one software package can control all of them.

All industries operating mission-critical systems on mainframe, UNIX, Windows, or Linux.
All industries restructuring mission-critical systems by use of ERP.
All industries planning legacy migration.

A-AUTO can schedule both the usual daily jobs and those left over from the day before.
Even if the workload increases, A-AUTO provides reliable monitoring of job progress with minimum staff.
Different versions of A-AUTO can cooperate.
A-AUTO performs on more than 20 platforms and is not dependent on any particular hardware.

A-AUTO is job-scheduling software that runs on various platforms, including mainframe, IBM z/OS and i5/OS, UNIX, Linux, and MS Windows servers. It integrates jobs automatically across platforms for any application systems, and does 24hours a day, 365 days a year non-stop job scheduling.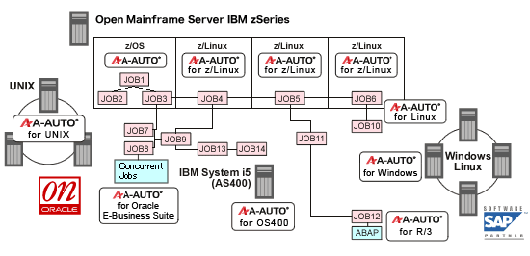 Job scheduling across complex, heterogeneous IT environments
A-AUTO integrates job scheduling across heterogeneous platforms, including mainframe, UNIX, and MS Windows servers.
Secure handling of bathch jobs
Reliable execution of batch jobs is essential to the operation of mission-critical applications. The scheduled date of each job is very important to an operation. A-AUTO assigns a schedule date to each process and controls the execution of jobs in chronological order.
A-AUTO also manages ERP jobs
ERP (SAP R/3, Oracle E-Business Suite) jobs can also be scheduled for execution by use of A-AUTO.



New configuration for an ordering system
A company's ordering system had been running on Tandem since 1990. As the system became obsolete, and hardware maintenance was ended, the company decided to reconstruct its ordering system. The new system had to be built on a high-availability platform, to be available 24 hours a day, 7 days a week. Because the company was already using z900 mainframe, Linux on zSeries was and because known to be reliable, that platform was chosen for the new system. The company also selected A-AUTO as its job-scheduling system to integrate applications across z/OS and a number of zLinuxs, as well as existing UNIX and Windows servers.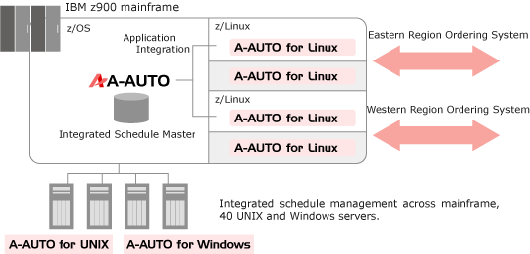 A-AUTO for Mainframe
z/OS, MSP, VOS3, XSP
A-AUTO/LINK for Mainframe
z/OS, MSP, VOS3
A-AUTO/Link for UNIX/Windows/Linux
A-AUTO for UNIX/Windows/Linux
Basic License, Remote License
AIX, HP-UX, Solaris, MP-RAS, Tru64UNIX, Windows 2000 Server, Windows Server 2003, RedHat Linux ES/AS, Turbolinux ES, z/Linux, OS400(Remote License Only)
A-AUTO/Client
A-SUPERVISION
Windows 98, Windows 2000, Windows 2003, Windows XP
CATEGORY MENU