TOP > Products & Services > BeXtation


As the number of servers increases, different tools for new functions have to be installed. This increases the cost of operations.
Because each tool requires different skills, the job of managing operations is becoming increasingly complex.
The need to integrate application is urgent, but cannot yet be met, because different tools are used for each application.
Because outsourcing clients use different tools in their data centers, operations cannot be standardized.
Because development groups cannot transfer operations to operations department, they have to do operations for themselves. This delays the development of new systems.

Data centers that provide outsourcing services of IT operations.
IT departments that operate many servers and operation tools.

The operation of functions that are used often is unified by BeXtation even if the functions are handled by different tools on different servers.
Even if different tools are used as the number of servers increases, BeXtation consolidates operations virtually.
BeXtation can absorb differences between tools when IT systems must be consolidated for reasons such as a merger.
BeXtation will absorb differences between using tools when IT system must be consolidated due to merger etc.
The transfer of operations from a development group to an operations group becomes easier. Further, the amount of work needed for operations is reduced dramatically, and so is the cost of operations.

BeXtation absorbs differences between operation tools or versions, and consolidates information about the operation of distributed applications. It makes virtual consolidation easy, with no need to replace operation tools. Also, even if new technologies or tools are adopted in the future, an organization can respond flexibly to the changes and construct operation system flexibly without changing operation procedure.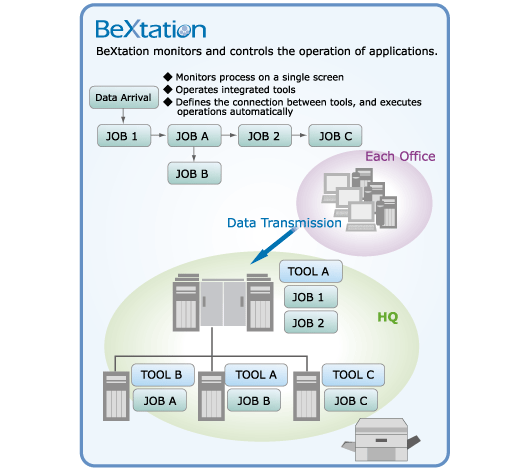 Visualizing the operation of applications
The status of application processes, and various events on different servers, can be viewed on a single screen. The choice of what is displayed can be configured and filtered by changing settings. Therefore a user can notice troubles of critical processes early.
Single-mode operation
Users can issue commands for various tools from the BeXtation screen. They can do this by one simple, unified operation, without knowing the differences between tools or versions. Therefore operations can be managed by people who have no special skills with individual tools.
Integrating application systems
Jobs that involve linkage of data, or that are to be done by several application servers or different operation tools working in conjunction, can be defined without programming and controlled from the BeXtation screen. Actions such as sending email or executing jobs are initiated automatically in response to events or to the results of application processes.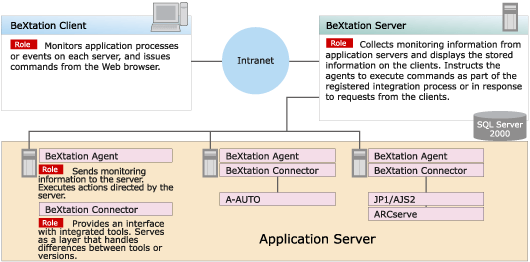 Reducing the cost of operations involving different tools
Issues

As the number of servers to be managed has increased, different tools have been installed in the servers. The result is that monitoring and operation have become more complex, and because operators have to switch from one tool to another, more mistakes are made. Also, training operators to use all these different tools is a costly process.
Benefits

The failure of overseeing events has been reduced because the results from several applications can be monitored on a single screen.
Unifying the operation of tools has led to a reduction in the number of mistakes in operation.
The cost of training has been reduced because operations do not require knowledge of every tool used.


BeXtation Server
Windows 2000 Server

Windows Server 2003
*DB required(installed separately)
SQL Server 2000
A-AUTO/LINK for Mainframe
z/OS, MSP, VOS3
BeXtation Client
Web browser (Internet Explorer or above)
BeXtation Agent
Windows 2000
Windows XP
Windows 2003 Server
AIX 5.1 or above
Supported tool
A-AUTO for Windows V5 or above
A-AUTO for UNIX V5 or above
JP1/AJS2 V6, V7
ARCserve r11
CATEGORY MENU