Top > Products & Services > Case Studies

* The company names and the contents of the case studies are given as of the time of the interview.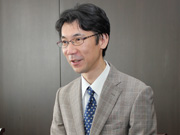 Since its establishment in 1975, Information Services International–Dentsu, Ltd. (hereafter "ISID"), based in Minato-ku, Tokyo, has served as a business partner of its client companies, providing total solutions or offering consultation, system planning, system development, and systems operation and maintenance. ISID works constantly to be an innovator in IT solutions, and it has developed its business widely, to include such services as solutions for banking and finance, solutions for product development, consultation for business management, and consolidated accounting, HRM, ERP, and marketing. In 2010 ISID entered cloud computing, and since then it has actively worked to offer cloud computing services to customers in various industries and fields.
ISID released BusinessACXEL for SAP ERP (hereafter "BusinessACXEL") in April 2010, and adopted BSP's A-AUTO as its job monitoring tool. Regarding the launch of the service and the background of the selection of A-AUTO, BSP recently interviewed Mr. Takashi Shima, Project Manager of the Business Consulting Department of ISID, and Mr. Ken Orihara, Senior Consultant of the Solution Consulting Department IV.


Category Menu